Surviving Workplace Violence
What to Do Before a Violence Incident;
What to Do When Violence Explodes
Loren Christensen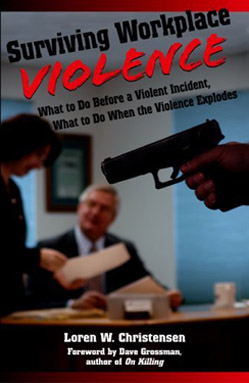 Do you work with someone who is unusually angry, antisocial, quick to take offense? If so, you need to know that this person could be a ticking time bomb, capable of acts of violence in response to some stressful situation or perceived insult. Until now, all books on workplace violence have covered the psychology of the perpetrator –- interesting background information for academics, but of little help when the sound of gunfire erupts in your office, and you need to know what to do right now.
Surviving Workplace Violence fills this void by providing solid information to keep you off the growing list of victims of violent incidents on the job. Within these pages you will learn:

-- How to recognize the warning signs in a coworker's behavior that typically precede a violent act
-- How to monitor suspected workers and interact with them on a daily basis
-- How to analyze your immediate workspace and your overall work environment for escape routes, hiding places and barricade positions
-- What to expect in an actual incident: gunfire, screams, disbelief and panic
-- How to react quickly, decisively and safely when violence explodes
-- Making the decision to fight back when you can't escape or hide, and how to best neutralize an attacker, whether he is armed with a gun, knife or other weapon.

Surviving Workplace Violence answers the hard questions that company directives, magazine articles and other books leave out: Exactly what you should do before a violent incident, and what you should do if violence ever explodes where you work.

Surviving Workplace Violence: What to Do Before a Violent Incident; What to Do When the Violence Explodes (Paladin Press) 120 pages.
Softcover, Item# Bworkplaceviol
Book -- $13 Retail: $15
---
Comments on Surviving Workplace Violence include:
Did you know that according to the National Institute for Occupational Safety and Health, workplace homicide is the leading cause of death among female workers in the United States and the second leading cause of death among men? 18,000 people a week are victimized by some sort of violence in the workplace in this country alone! Understanding how to protect yourself and your employees is indispensable knowledge.

I was privileged to receive an advanced copy of this important work to review before its official publication and found it well written, informative, and packed with essential information. Loren Christensen is one of my favorite authors. A retired police officer, Vietnam veteran, and 7th Dan black belt he really knows his stuff. For the record, I have a library of over 230 martial arts books. Many are in mint condition; stuff I've read only once, didn't finish, or never got around to. Christensen's are all dog-eared with sticky notes and scribbles in the margins, solid material I read over and over again. As always his advice is practical, useful, and easy to read.

In Surviving Workplace Violence, Christensen does a great job of making readers aware of the threat and presents solid strategies for keeping us safe. It is pretty short, a mere 105 pages, yet extremely valuable nevertheless. Its pithiness positions it as an excellent reference manual that just about anyone can read and understand in a few short hours. Clearly you cannot become an expert in such a short time yet the materials herein could literally save your life.

The vignettes in this book are startling and very informative. For example, it describes a situation where a 70-year-old salesman attacked and killed his former boss with a mason's hammer several months after she fired him for spitting on another employee. This clearly points out that just about anyone can be a potential hazard. Christensen describes warning signs (employee behaviors) that may indicate a higher likelihood of threat.

The author covers essential survival strategies for the employer (e.g., company policies/committees), as well as for the employee. The latter include awareness, stages of alertness (i.e., white, yellow, orange, red, black), hiding places, escape routes, incident response, combat breathing, mental imagery, and fighting back. He offers specific techniques that can be used against common weapons (e.g., knife, handgun, rifle) as well as descriptions of how to use common implements (e.g., stapler, pen, coffee cup) to help you fight back should you be forced to do so. -- Lawrence Kane, author of The Way of Kata and Martial Arts Instruction
---
Don't forget to check Package Deals for extra savings!