Warriors
On Living with Courage, Discipline and Honor
Loren Christensen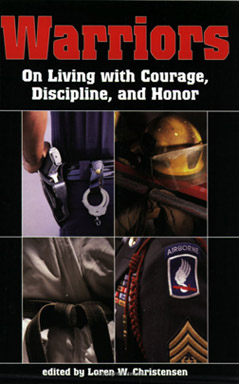 The word "warrior" is not new. Soldiers, cops, emergency rescue personnel and other men and women who face hardship and danger in service to others have always used it.
But outside this warrior community, it was just a word with no great significance attached to it ... until Sept. 11, 2001. After that, "warrior" became something of a buzz word.

Most often it's used properly, though sometimes its use has been a stretch of the definition.

In compiling this collection of essays, Loren W. Christensen sought the true meaning, the essence, of warriorhood, by going to the source, to those who live it. The writers who contributed to this work are a diverse mix, from soldiers, cops and SWAT officers to martial art masters to experts in the fields of workplace violence, theology and school safety.

They are some of the finest warrior authors, warrior trainers and warrior scholars today. Many have faced death, survived and now teach others to do the same. Here they speak candidly on what it's like to sacrifice, to train, to protect . . . Even to kill . . . To accomplish what needs to be done. Because that's what a warrior does.

Christensen is a retired policeman, Vietnam veteran, high-ranking martial artist and prolific writer. He began his law enforcement career in 1967 as an Army military policeman and then joined the Portland Police Bureau in 1972, retiring in 1997. In addition, he has earned a total of 10 black belts – seven in karate, two in jujitsu and one in arnis – and penned 27 books and dozens of magazine articles on the topics of the martial arts, missing children, street gangs, police-involved shootings, nutrition, exercise, prostitution and various street subcultures.

Warriors: On Living with Courage, Discipline and Honor (Paladin Press) 2004, 376 pages, ISBN 1-58160-454-8.
Softcover, Item# Bwarriors
Book -- $18 Retail: $2
---
Comments on Warriors include:
Warriors is a fabulous book that should be read by every cop, soldier and relative of one. Christensen wrote On Combat with Col. Dave Grossman and that book should also be in every warrior's library.

Somehow Christensen got some of the top warriors in the country to write an article for this book. There is something in it for military people, law enforcement, and martial artists.

Some of the articles will stick in your mind for a long time. I'm thankful that there are men and women out there who are willing to do the right thing for others at a time when there are so many self-serving wimps who complain about police officers, President Bush and our military, but don't have the guts to put it on the line.

Thank God we have warriors. -- Sam Reeves, Seattle, Washington
---
Thirty-seven real-life warriors tell what it's like to kill, to sacrifice, to train, to fear, and do what needs to be done. Christensen has collaborated with some of the greatest martial artists of all time to create this masterful book. Contributors include Lt. Col. Dave Grossman, Massad Ayoob, Gavin de Becker, Stephen Hayes, Hoch Hochheim, and many more... It is a fantastic read giving great insight into what we fight for and why. The story about how Rick Rescola died saving 2,700 people on 9/11 is particularly moving and highly memorable. I highly recommend this book. -- Lawrence Kane, author of The Way of Kata and Martial Arts Instruction
---
When Loren first asked me to contribute to this book, I felt honoured. When I read the final work, I was humbled and proud to share the same pages as the magnificent warriors in it. The stories and experiences written down in this book will give you an insight into not only what it is like to be a warrior, but also what terrible price is often paid when walking this path. Hollywood and the TV screen tend to perpetuate myths that have no resemblance at all to what warriorhood encompasses in the real world. This book gives a rare and accurate view of the many different sides to the warrior's life.

You will be both inspired and profoundly touched as you read this book. Don't hesitate to buy this one. -- Wim DeMeere, Brussels, Belgium
---
Don't forget to check Package Deals for extra savings!