Tactical Shotgun for Self-Defense
DVD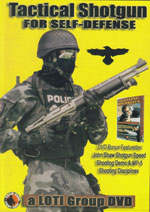 The tactical shotgun is the most powerful weapon an individual can wield in either close combat or home defense. And the wide variety of ammo available makes it the ideal weapon for both stopping power and preventing over penetration when used in defense of your home.
Learn how to select the proper load for the distance you will be deploying your weapon. Find out when to deploy buckshot and when you'll need slugs.
Learn what you need to choose for your correct sighting system.
Learn combat drills to help you quickly load, unload or change projectiles while keeping your target in sight.
And most importantly study how to defend yourself and your family in close quarter battle against multiple armed intruders, when there is no other option left.
A special bonus feature of this DVD is: MP-5 Shooting Disciplines and Shotgun Speed Shooting Demo.
Tactical Shotgun for Self-Defense (LOTI Group) color
DVD Item# DtacshotgunDVD
DVD -- $22 Retail: $25
---