Street Smart, Firearms and Personal Security
Jim Grover's Guide to Staying Alive
and Avoiding Crime in the Real World
Jim Grover (aka Kelly McCann)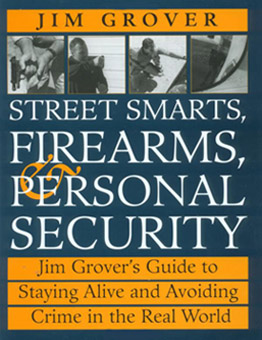 This is a compilation of the best of Jim Grover's popular "Personal Security" columns published in Guns & Ammo and feature articles from Handguns magazine.
This book covers the entire spectrum of personal security with street-savvy ideas and twists that can be found nowhere else. Learn how to vastly improve the physical security of your home; develop street smarts; stay safe while traveling in a vehicle, out of town or abroad; recognize and avoid crime; keep your children safe from grade school through college; choose and effectively use nonlethal weapons; engage in unarmed combat if necessary; and utilize radically practical shooting skills that have been perfected in real-life situations.

Grover has served as an on-site security professional in the world's hottest of hot spots, firearms and combatives instructor, and hands-on security trainer to international corporations, among other sensitive assignments.

From spotting trouble before it happens to surviving a riot to handling a firearm like a pro ... this book has it all.

Street Smarts, Firearms and Personal Security: Jim Grover's Guide to Staying Alive and Avoiding Crime in the Real World (Paladin Press) 2000, 271 pages, ISBN 1-58160-067-4.
Softcover, Item# Bstsmarts
Book -- $33 Retail: $35
---
Reviews of this book include:
Without any apologies Jim Grover (Kelly McCann) has the best stuff out on the market period. It is simple safe effective easy to learn and you do not have to wear pajamas. I was a cop for 7 years and I taught survival skills while also training for about 10 years in the martial arts. What would I use, what ever he says. He is smart creative and has been in the grease enough to know what works and what does not. He, unlike many authors and instructors leaves his ego at the door when it comes to teaching survival skills. He is not invested in putting his name on any particular draw or holster. I digress, this information if vital for parents, kids, teachers, and anyone who cares about another person. If applied it can save a life. If you are serious about not wasting your money and time get hooked up with Jim Grover's book and video series and a good coach. This is the real deal and you can bet your life on it. -- M. Harrington, Walla Walla, Washington
---
Over the years I have read much of the writings of Jim Grover in various magazines. I have gotten great feedback from many of my own students when they have read Street Smarts as part of the training in the use of handguns along with hand to hand concepts that we teach at Attack Proof Inc. Mr. Grover is an authority who can be depended upon to give straight information which will put the odds seriously in your favor during a real life confrontation with a firearm. Some folks think that repetition of basic techniques is boring or not useful. Mr. Grover takes the best of the basics and presents it in a language that can be grasped and appreciated by serious professionals, who can always use a tune up, as well as beginners who need real information for close and dangerous encounters. I can't praise his work enough. -- John Perkins, president, Attack Proof Inc.
---
Having read most of what's available on personal security, shooting and tactics, I can say that Jim Grover's book is just about the best single-volume overview of the topic. Calm, no nonsense and straightforward without falling prey to the macho chest beating that seems to infect even some of the best books on the topic. -- Chad D. Ward, Wichita, Kansas
---
Don't forget to check Package Deals for extra savings!