Physio-Psychological Aspects of Violent Encounters
Massad Ayoob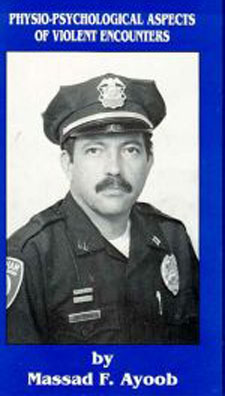 This two-hour video exceeds both length and subject coverage of the older tapes. Learn the dynamics of tachypsychia, tunnel vision, auditory exclusion, cognitive dissonance, amaurosis fugax, denial response and other things that can affect you during or after a fight or a shooting. A must for homicide investigators!
Physio-Psychological Aspects of Violent Encounters (Police Bookshelf) 120 minutes.
DVD, Item# DphysioDVD
DVD -- $34 Retail: $35
---
Those who have seen Physio-Pscyhological Aspects of Violent Encounters have this to say about it:

Even if your job puts you in daily contact with potentially violent people, it is still a shock when things go "sideways." This is especially true when someone decides, position of authority or not, he's going to take you out. I'm not talking about resisting or fighting you, I'm talking about him coming at you to kill you. Suddenly finding yourself in such a situation causes your body to react in ways that if you are not aware of and have not trained to work with, can create havoc with your ability to react. Mas pioneered the field of adrenal stress response and perceptual alterations that accompany violence. This is information that you will need not only to survive the incident but to defend your actions in court when an attorney attempts to make it sound like you over-reacted. Marc MacYoung
---
Don't forget to check Package Deals for extra savings!