Home Security
How to Select Reliable Locks and Alarms
for Your Home, Office or Car
Carl Hammer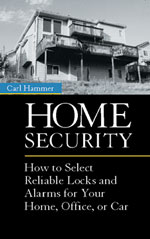 This book reveals how burglars actually target and then break into buildings. And it offers proven techniques and tactics for thwarting the criminals, ranging from neighborhood vandals to the most sophisticated art thieves and government agents.
The advice includes dozens of low-tech, low-cost, low-maintenance measures to safeguard your home or office, inside and out. An extensive section on alarms shows you the best way to install a secure system that meets your protection needs. It also shows how even the most expensive of these systems can be circumvented if you're not careful. The last part of the book details reliable home safes, gun storage, vehicle alarms and other special situations, including how you can protect yourself and family members when you are away from home.
Home Security: How to Select Reliable Locks and Alarms for Your Home, Office or Car (Paladin Press) 2001, 264 pages, ISBN 1581601212
Softcover, Item# Bhomesecurity
Book -- $22
---
A reader notes:
This book goes into great detail on everything from types of alarm sensors to how locks are picked. I wouldn't advise reading this book straight through; you would be better served to use it as a resource to explore specific areas of interest. I think the most useful chapter is the one that covers how burglars break into homes. It covers the bad guy's tactics and what you can do to thwart them. This chapter alone is worth the price of the book and I personally found it very useful in making decisions in the construction of my home security system. -- D. Buxman, Pueblo, Colorado
---
Don't forget to check Package Deals for extra savings!