High Risk Entry
DVD
Chuck Habermehl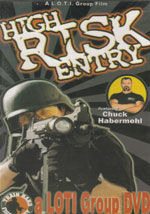 SWAT, Special Response, HRT, ERT ... it doesn't matter what you call them. What all those initialisms mean is that these are the people who will do the dangerous, dirty work required of tactical units. Whether it's hostage rescue, barricaded subjects, active shooter or incidents involving chemical or bio weapons -- these are the people who respond.
Perfect practice for these hazardous assignments means perfect execution -- despite the many variables that can and often do strike. And that's why Chuck Habermehl designed this High Risk Entry DVD to educate teams about the proper procedures that will make sure they return safely home.
High Risk Entry is the most advanced DVD on entry team strategies and live-fire CQB tactics to date.
Habermehl combines team instruction and live-fire exercises to teach vital disciplines. High Risk Entry is an in-depth DVD featuring battle-tested techniques, plus cutting edge tactics -- including rarely seen live-fire entries by teams wearing SCBAs and Level A suits.
This DVD covers live fire: wall flood, penetration flood, leap frog techniques, hallway clearing, cover and check drills, barricade clearing, entries with gas masks, entries wearing Level A suits, two- and four-person entries, and live-fire room clearing.
Habermehl has more than 20 years of law enforcement experience as a police chief, tactical trainer, firearms instructor and SWAT team commander.
High Risk Entry, Chuch Habermehl (LOTI Group) 105 minutes
DVD Item# DhighriskDVD
DVD -- $22 Retail: $25
---
Don't forget to check Package Deals for extra savings!