Fighter's Guide to Heavy Bag Training
Book
Wim DeMeere, Loren Christensen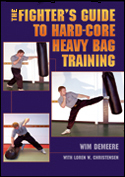 Companion to the DVD Fighter's Video Guide to Heavy Bag Training, this book takes an in-depth look at the information presented in the DVD.
Not only does it cover training with the heavy bag but also the nuts-and-bolts details of choosing the right bag, where to hang it and care. And to prevent costly damage to you, it discusses your equipment and the property.
Working the heavy bag, you can develop all the attributes you need as a martial artist or fighter: power, form, speed, timing, endurance, and explosiveness.
Throughout The Fighter's Guide to Hard-Core Heavy Bag Training, Wim Demeere and Loren Christensen relay solid information on how to choose the right bag for your needs, how best to hang it, and how to care for it so it lasts for years.
You also will learn the types of impacts and how to make the best use of them for specific situations; innovative drills to maximize your fitness level and fighting ability; creative ways to grapple a heavy bag, including chokes, takedowns, and arm bars; and how to avoid the most common mistakes in heavy bag training.
The Fighters Guide of Hard-Core Heavy Bag Training, Wim DeMeere, Loren Christensen, (Paladin Press) photos, 262 pages
Softcover Item# BheavybagBOOK
Book -- $27 Retail: $29
---
Don't forget to check Package Deals for extra savings!