Escape Combatives
Chuck Habermehl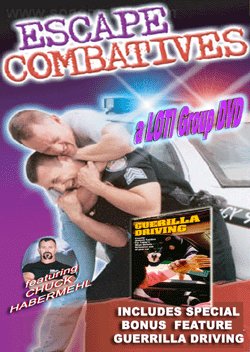 It's too bad Chuck Habermehl comes across on film so big and buff ... he's not that big. Habermehl does not rely on "muscle" to make his moves work to break holds. The man is an expert at using his structure and leverage to break free.
The structure and leverage used as he teaches these escapes would work to help free even the most delicate woman or smaller man from a bad situation.
Although the film provides useful techniques when things go wrong for an arresting officer -- it's instructional for everyone! Escape Combatives teaches the skills needed to: Break away from from frontal and rear choke holds; side headlock; frontal and rear bear hugs; shoulder and lapel grabs; counter both frontal and rear tackles; and much more!
As a special bonus this DVD also includes "Escape Driving"

DVD, Item# DescapecombatDVD
DVD -- $24
---
Those who have seen Escape Combatives say:
The bottom-line is that, when it comes to violence, things go wrong. ANYBODY can find themselves on the losing end of a physical altercation. It's knowing what you can do to break free when someone has gained the advantage that will keep you from being thrown a beating.

Although this training film was intended for law enforcement and correctional officers anybody can use it. In the book Becoming a Complete Martial Artist our co-author stated an often overlooked fact when he said "The purpose of the martial arts is weakness overcoming strength" The importance of this statement cannot be over-stressed. Technique, leverage, balance and gravity are the ONLY means that a smaller, weaker person has to prevent a larger, stronger opponent from winning. It is unfortunate that Habermehl is himself such a large and powerful man, because many people will look at what he is doing and not realize that it is the information he is providing that is allowing him to break free from his attackers -- not muscle. What he is showing works for anybody.

This video is vital for anyone who is in danger of finding themselves in a violent situation with a larger, stronger and more aggressive attacker. I really am jazzed about the packaging that LOTI did with this and "Escape Driving" on one DVD. If a woman is in a stalking situation it's a winning combo for her safety. -- Marc MacYoung
---
Don't forget to check Package Deals for extra savings!