Deadly Force Encounters
What Cops Need to Know to Mentally and Physically
to Prepare for and Survive a Gunfight

Dr. Alexis Artwohl, Loren W. Christensen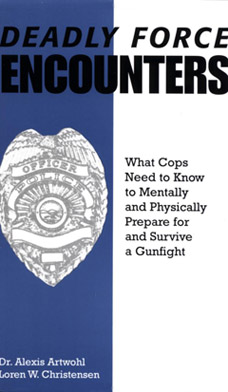 Combining forces, an experienced police psychologist and veteran officer give the LEO involved in a deadly force encounter a fighting chance to save his sanity, marriage and career.
When it comes to lethal force, a police officer must not only survive the encounter, but the emotional trauma associated with its aftermath. He must weather official investigation, the media exposure, and the criminal and civil lawyers. All the while, he or she must endure the intense psychological damage that is incurred when another person's life is taken, no matter how righteous the cause.

Fortunately the officer is not alone. Many others have walked this path before him. Like torches in the darkness, their knowledge and experience will help the officer find his way from this dark night of the soul.

This book gives such a traumatized officer a fighting chance and the words needed to survive the situation.

Deadly Force Encounters (Paladin Press) 272 pages, ISBN 0-87364-935-4
Softcover, Item# Bdeadlyforce
Book -- $23 Retail: $25
---
Comments about this book include:
As a former Oakland, CA police sergeant and veteran of a number deadly force encounters, I can recommend this book to all street officers. In 1972 I was involved in an incident with an armed suspect who was killed. Today I can still relate the incident second by second. It will never leave me. This book allows you to gain from experience of deadly encounters without having to go through it yourself. This is very helpful and will certainly save lives. I recommend the book. -- Wayne D. Ford, Ph.D, author of Managing Police Stress
---
I am Lt. Col. Dave Grossman, author of the book On Killing. I train and speak to law enforcement, military, and medical personel world-wide. The information in Deadly Force Encounters has become one of the cornerstones of my presentations, and I recommend the book strongly to everyone I train. In particular, the information (based on Dr. Artwohl's groundbreaking research) on perceptual distortions in combat provides vital, revolutionaly new insight into what happens to people in combat. This book is an absolute must for ANYONE who wants to understand the reality of combat, in law enforcement or military, in history or in their personal future. The book will be extremely useful to individuals after a deadly force encounter, but its greatest value is to prepare those who will have to face combat. Like a bulletproof vest, the mental preparation that this book can provide is best when in it is put in place BEFORE the bullets fly, thereby, enevitibly, undoubtedly, saving lives. -- Lt. Col. David Grossman
---
Don't forget to check Package Deals for extra savings!