Brady Denial?
You CAN Get Your Guns Back
C.E. Hill, attorney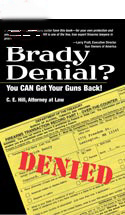 The Brady Handgun Violence Prevention Act of 1993 has ensured that thousands of law-abiding Americans are denied purchases of guns through a variety of "disqualifying events." And those disqualifiers vary from state to state. Many times, they involve incidents so minor or that occurred so long ago that a person may not even remember them. And the law doesn't just ensure that only hardened criminals and ex-convicts are turned down.
Despite any evidence to the contrary or appeal, the result is a Brady denial at the gun counter when a person is trying to make a purchase.

Attorney C.E. Hill takes you, step-by-step, through the nine federal disqualifiers and tells you the options for overturning each. This easy-to-use guide is invaluable for those who aren't sure if they'll be denied a gun purchase, for those who have been denied and want to do something about it, and for lawyers intent on returning constitutional rights to their clients.

Brady Denial: You CAN Get Your Guns Back (Paladin Press), 112 pages.
Softcover, Item# Bbrady
Book, $13 Retail: $15
---
Don't forget to check Package Deals for extra savings!