Far Beyond Defensive Tactics
Advanced Concepts, Techniques, Drills
and Tricks for Cops on the Street

Loren W. Christensen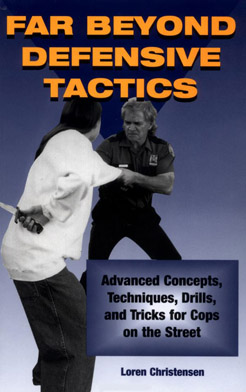 A real fight is too fast, too furious and too chaotic for any complicated set of maneuvers to work effectively. In this environment, K.I.S.S. (Keep It Simple Stupid) becomes a life-saving acronym.
And in his blunt and humorous style, Loren Christensen, a retired police officer and lifetime martial artist, teaches you how to strike the two best targets to disable a hostile opponent, as well at how to deal with those people who are not affected by pain compliance holds or chemical sprays.

Christensen also deals with handling multiple attackers, disarming an assailant and using the ground to your advantage.

The anecdotes and biting humor he sprinkles throughout the book make it a fast and pleasurable read, as well as disseminating hard-won, street savvy knowledge.

Far Beyond Defensive Tactics: Advanced Concepts, Techniques, Drills and Tricks for Cops on the Street (Paladin Press) 208 pages, ISBN 0-87364-986-9
Softcover, Item# BbeyondDT
Book -- $23 Retail: $25
---
Reviews:
My understanding is that the author wrote this one shortly before his retirement from a distinguished law enforcement career, working primarily during his lunch hours. While it is primarily aimed at police officers, martial artists and those interested in practical self-defense can really benefit from these materials as well. The author's experience, sense of humor, and real-life adventures make it a quick, interesting read despite its 200 page length. His long experience training other officers really shines through.

You will learn how to stay safe patrolling (or simply walking) the streets, protect your weapon, deal with multiple attackers, handle stronger, larger opponents, and otherwise deal with deadly threats. It is especially good for law enforcement personnel who do not have a martial arts background. It is a bit more strategic than tactical yet I feel that hits just the right blend. There is an introduction to the "right demeanor," a large section on control techniques, principles and concepts, and important insight into the nature of fighting. The various scenarios in the training section are truly excellent. The chapter on how to create a witness is really outstanding, though I do wish it was a bit longer.

Overall this is a great book! -- Lawrence Kane, author of The Way of Kata and Martial Arts Instruction
---
This book is about the nature of combat; it is not an instruction manual about specific techniques. This is very good approach, as I believe that it is not possible to properly teach hand to hand combat techniques (or any other complex movements) without an instructor to oversee the action. Instead of techniques, the book is filled with truths about mental preparation and the winning attitude.

I think that while reading the book can be useful to anyone interested in real-life self defense, it is self defense instructors who benefit most from it. And everyone can have a good time reading it. -- Seppo Vesala, Helsinki, Finland.
---
Don't forget to check Package Deals for extra savings!