CQB Clearing Tactics For First Responders (Shotgun)/
Patrol Tactics for 911 Officer (Pistol)
DVD
C.J. Caracci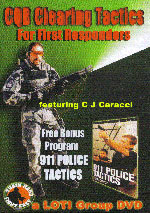 There are hundreds of DVDs about how to shoot, this one is how NOT to get shot.
In a crisis situation, you stake your life on every decision. The first responder faces a vital choice -- act now or wait for back up ... and either decision could be worth someone's life.
Sometimes an individual has no choice but to take action. And that means going through a building trying to find someone who can shoot back. That's if he doesn't open fire first.
This DVD addresses the tactics necessary to prevail using architecture, angles, traversing thresholds, weapons manipulation, barricade shooting, and the difference between cover and concealment. In short, it's all the things you can do to keep from getting shot.
This double-feature DVD covers shotgun and pistol for both the law enforcement officer and civilians defending their homes.
CQB Clearing Tactics for First Responders/911 Police Tactics (Loti Group) color, 90 minutes
DVD Item# DCQB/911tactics
DVD -- $22 Retail: $25
---
Don't forget to check Package Deals for extra savings!