Beyond Brazilian Jujitsu
Mark Hatmaker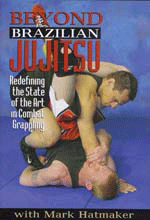 We've said it before, we'll say it again: When you are fighting for your life, forget grappling.
Grappling is a tool that works great ' out of the box' for situations where you want to control someone without hurting him.
Submission fighting is a much needed tool for law enforcement, security professionals and anyone who is called upon to sit on drunken Uncle Albert at a family reunion. (And similar situations, where, as much as you may want to, you can't hurt him.)
And when it comes to grappling, Brazilian Jujitsu is the best marketed system out there ... therefore it is the most commonly taught.
Beyond BJJ is NOT a DVD for beginners, however. It assumes you've had some basic grappling experience and that you expect to deal with a trained BJJ wrestler.
Hatmaker makes a point-by-point analysis of over a dozen of BJJ's most popular techniques. He first reveals weaknesses and provides the counters. He then shows faster, less complicated wrestling tactics.
DVD, Item# DbeyondBJJDVD
DVD -- $56 Retail: $59.95
Order Now!
---
Don't forget to check Package Deals for extra savings!