In This Hub:
NNSD Bookshelf
Basics Books/DVDs
Crime Prevention Book/DVD
Home Security Book/DVD
Knife Book/DVDs
LEO/Security Book/DVD
Legal Book/DVDs
Martial Art Book/DVDs
Psychology Book/DVD/CDs
Self-Defense Book/DVDs
Street Survival Book/DVDs
Weapons Book/DVDs
Women Books/DVDs
Bookshelf Index
Child Safety Hub
Criminal Mindset Hub
LEO-Military Security Hub
Knife Fighting Hub
Legal Hub
Martial Arts Hubs
Property Crime Hub
Psychological Survival Hub
Rape Hub
Robbery Hub
Self-Defense Hub
Stalking-Domestic Violence
Street Fighting Hub
NNSD Home Page
---
---
Marc MacYoung?
Dianna Gordon MacYoung?
Animal E-list
Crime Avoidance Lectures
Crime Blog
Colorado Classes
Contact Us
FAQs
Hosting A Seminar
Crime Prevention
Expert Witness
Knife Defense
Law Enforcement
Martial Arts
Military
Movie Consulting
Women's Self-Defense
Links
Our Linking Policy
On-line Store
Train with MacYoung
Testimonials
Terms of Use
Topics of Interest
Terror at Beslan
A Russian Tragedy with Lessons for America's Schools

John Giduck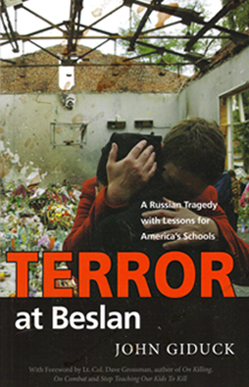 This is a complete and accurate report on the Beslan School siege in Russia by Chechen terrorists on Sept. 1, 2004.

Terror documents the tactics, atrocities, ploys and cunning of fanatical terrorists. It also highlights the untold stories of the victims, the soldiers who responded and the events leading to this tragedy. But more than just the story, Terror at Beslan highlights the lessons America's schools and law enforcement must learn from this catastrophe to protect themselves from terrorism.

It begins with a look at terrorism in Russia, as well as development of the country's counter terrorism units. From the ascension of Chechen terrorism, the book moves to the actual attack on the school and dissects the terrorists' plan, as well as the government response.

The last chapters of the book focus on "preparing America for battle" in its own schools. Due to the tactical "success" of the siege at Beslan, experts agree, it is not if, but when a similar terrorist attack occurs on U.S. soil. But unlike other countries, the military is not allowed to operate without special provisions in the United States. Therefore, it will be incumbent on the local police to respond. And unfortunately, as this book shows, current policies and responses are insufficient to deal with such a well coordinated, para-military assault as occurred at Beslan

The author, John Giduck, works with the Archangel Group, a nonprofit company that provides anti-terrorism consulting and training to law enforcement and other agencies. Giduck is a hand-to-hand combat and firearms instructor, and has been inducted into several international martial arts halls of fame. He has a master's degree in Russian studies and international affairs from the University of Colorado with a certificate in Russian history, culture and language from St. Petersburg State University in Russia.

His book's realistic "play-by-play" account of the events at and around the school should be required reading for law enforcement, school officials, concerned parents and citizens across the U.S. The knowledge within this book is essential for those wishing to bring about policy changes necessary to prepare us for this kind of event.
Terror at Beslan: A Russian Tragedy with Lessons for America's Schools (Archangel Group Inc.) 2005, 429, ISBN 0-9767753-0-1

Softcover, Item# Bbeslan
Book -- $24 Retail: $24.95
---
Reviews of Terror at Beslan include:

As a parent of a twelve year-old son, and as a high school teacher in America today, I can unreservedly recommend that this book be read by every parent, teacher, and school administrator who loves and cares about their kids. Mr. Giduck has provided us with an accurate and relevant review of world politics as it affects our children, their school, and our lifestyle.
The first two thirds of the book focus on the history of terrorism and its developments to kill children, parents, and teachers of the school system in Russia, hence the main title, "Terror at Beslan". However, a full one third of the book asks us to look inward and educate ourselves about the potential for terrorism in American schools and the book is appropriately subtitled, "A Russian Tragedy with Lessons for America's Schools". An additional component of the book is an exhaustive list of world terrorist activities over the last several decades. From a teachers perspective, I found this component extremely valuable. As a society, we seem increasingly susceptible to memory loss about heinous events. This is true for terrorist acts that happen in other countries, but (911 aside) it is also true for events that happen on our own soil.
Mr. Giduck virtually begs us to not forget about the history of terrorism and the focused intent that terrorists will use to consistently terrorize us in the future. He also insists that we begin planning for the security of our children at their schools. It is imperative that we take Mr. Giduck's call seriously. To help us understand the likelihood of a terrorist attack happening at an American school, all we need to do is listen to words used by the terrorists themselves. Make no mistake that the terrorists do NOT consider children off limits! With these ideologies given to us from known terrorists, and from the history lesson and advice provided by this book, there is no excuse for a lack of response from the American school system.
Thankfully, Mr. Giduck does not leave us stranded with a simple call for education and implementation. The book provides several well rounded, multi-faceted examples and models to lead us towards heightened awareness and action plans to improve the security of our schools. Unfortunately, there is a strong social pressure which may cause such implementation plans to be prematurely dismissed. Over the last several decades, there has been an increasingly ultra-liberalization of the atmosphere surrounding our school system. While the types of terrorism outlined by Mr. Giduck present an ultimate threat to the security of our children, this atmosphere is unquestionably a strong proximate threat to the safety of them while they are at school. This book provides solutions to these threats, the question is will the American school system mount an appropriate response. -- Bradd M. Shulke, Sandia Park, New Mexico.
---
This is the story of an event almost too horrible to imagine. John Giduck has the credentials to write this book - he is soldier and expert on Russian history and culture, but he was on the ground in Beslan within hours of the assault. His book describes in great detail everything from the terrorist plan to the aftermath. Perhaps most valuable are the sections devoted to the minute by minute review of the assault. It is a story of great heroism, bureaucratic ineptitude, and utmost savagery. Anyone in law enforcement will draw many lessons from this book. And we need to study this event in detail...there is nothing about Beslan that could not happen in any town or city in our country. That should give us pause. -- J. Bierly, California
---
Mr. Giduck's book is an excellent source of information for law enforcement, the military, school officials, or others who want to know what is facing the nation today. Mr. Giduck superbly dissects the terrorists and their methods of operation, and definitively outlines what we as a nation need to do to protect our own children. This book is truly gripping and is an excellent read. Mr. Giduck's places a much different face on the tragedy at Beslan than the whitewash the major news media has perpetrated concerning this tragedy. This is a must read for anyone interested in researching the Beslan tragedy or who is interested in the realities of terrorism that currently face our country. -- Rob Jones
---
Don't forget to check Package Deals for extra savings!




High Risk Entry
Learn More >
Order Now!


Real World Self-Defense
Learn More >
Order Now!


Warriors: On Living with Courage, Discipline and Honor
Learn More >
Order Now!


Survivor Personality
Learn More >
Order Now!


The Resiliency Advantage
Learn More >
Order Now!


Freedom From Fear
Learn More >
Order Now!


CQB Clearing Tactics For First Responders/ Patrol Tactics for 911 Officer
Learn More >
Order Now!


Effective Defense
Learn More >
Order Now!


Minimum Damage, Maximum Effect
Learn More >
Order Now!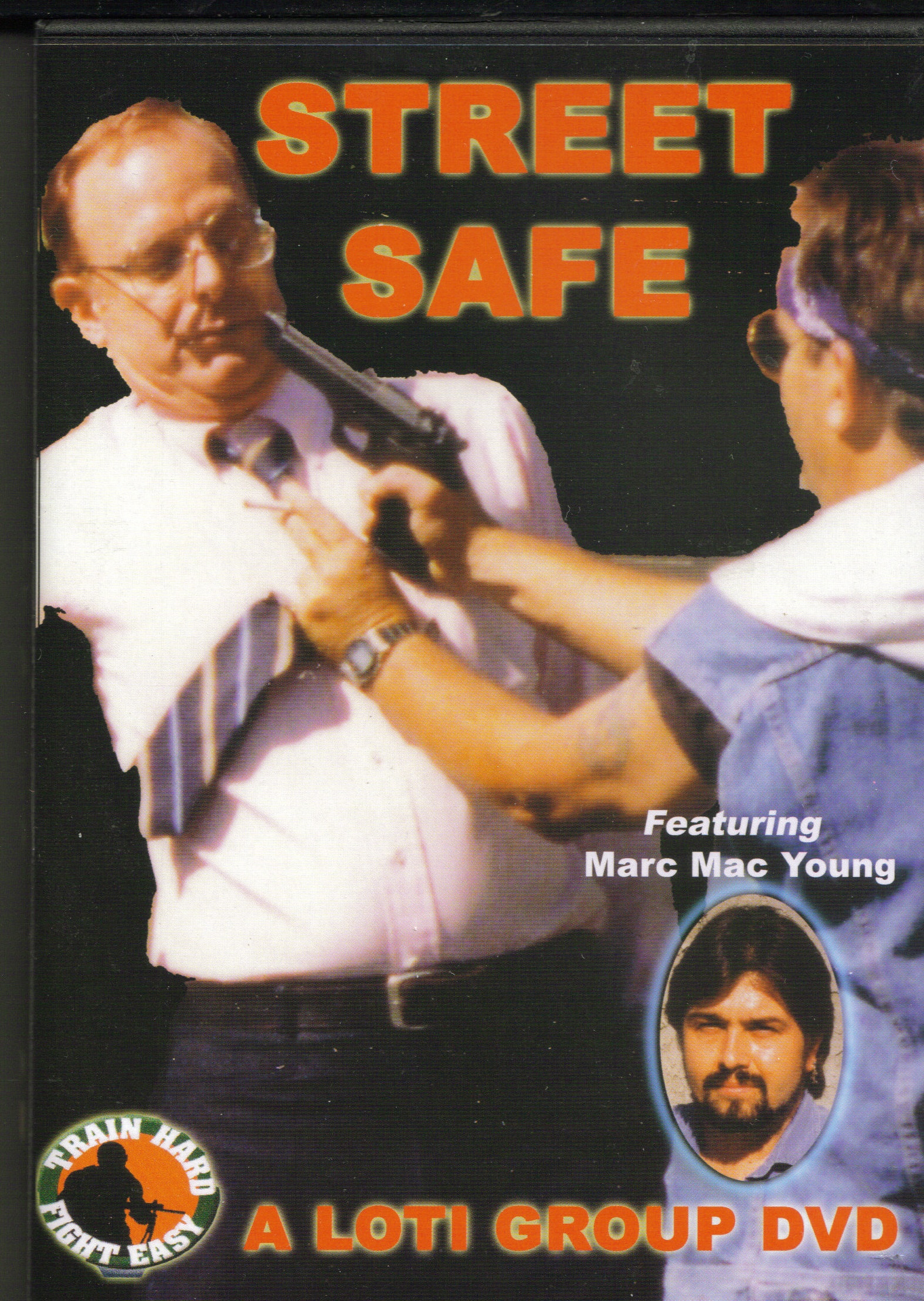 Street Safe: How to Recognize and Avoid Violent Crime
Learn More >
Order Now!